May 25, 2022
Freeform Releases Its TV Offerings for June 2022 With the Finale of 'The Deep End' and the Final Season Premiere of 'Motherland: Fort Salem'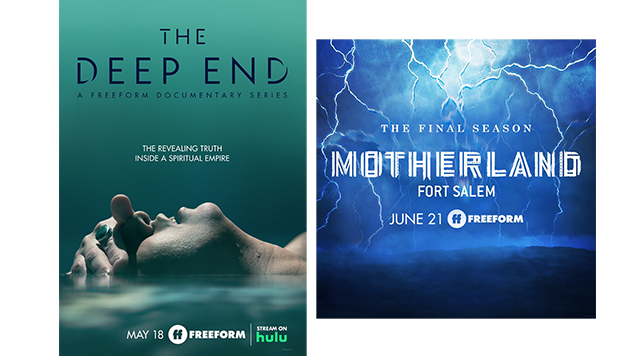 "The Deep End" Season 1 – FINALE
Photos Available Here
Screeners Available Here
June 1 (10:00-11:00 p.m. EDT) – Episode #1003 – "The Carousel"
Tensions rise within the community as Teal wrestles with how to heal her troubled followers.
June 8 (10:00-11:00 p.m. EDT) – Episode #1004 – "The Adversary"– FINALE
Fractures deepen within the Inner Circle as revelations come to light and difficult decisions must be made.
"Motherland: Fort Salem" Season 3 – SEASON PREMIERE
Photos Available Here
Screeners Available Here
June 21 (10:00-11:00 p.m. EDT) – Episode #3001 – "Homo Cantus" – SEASON PREMIERE
After being blamed for the death of the vice president's daughter, the witches leave the army behind and become fugitives — but staying out of trouble is never easy. While Raelle and Scylla enjoy their reunion, Nicte tempts Tally with a new power.
June 28 (10:00-11:00 p.m. EDT) – Episode #3002 – "The Price of Work"
The group seeks sanctuary in the mysterious Cession. The Unit learns the Camarilla is directly targeting the Mycelium, inspiring them to strike back. Petra and Anacostia work to determine President Wade's allegiance.
*COPYRIGHT ©2022 Disney Enterprises, Inc. All photography is copyrighted material and is for editorial use only. Images are not to be archived, altered, duplicated, resold, retransmitted or used for any other purposes without written permission of Freeform. Images are distributed to the press in order to publicize current programming. Any other usage must be licensed. Photos posted for Web use must be at the low resolution of 72dpi, no larger than 2×3 in size.
Freeform Media Relations
Philip Galicia
philip.galicia@disney.com
Amanda Kell
(818) 569-3391
amanda.kell@disney.com
Press materials are available at www.dgepress.com.
Freeform app: http://freeform.go.com/apps
Follow Freeform (#Freeform) on Instagram, Twitter and Facebook.