June 27, 2022
Freeform Brings the Heat This Summer With New Episodes of 'Motherland: Fort Salem,' the Return of Fan Favorites 'Good Trouble,' and 'Grown-ish' and the Two-Episode Series Premiere of 'Everything's Trash'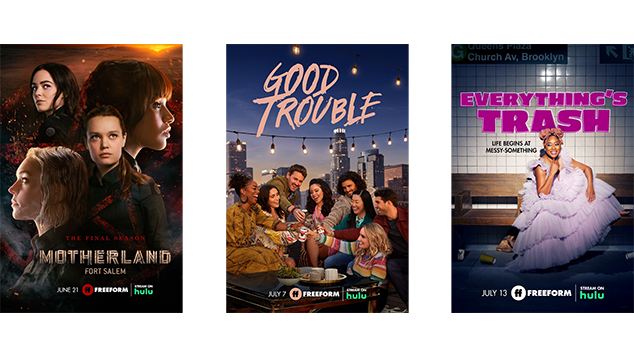 "Motherland: Fort Salem" Season 3
Photos Available Here
Screeners Available Here
July 5 (10:00-11:00 p.m. EDT) – Episode #3003 – "Oh Elayne…"
With the Cession Marshal on their heels, the Unit splits up. Scylla and Nicte attempt to draw the Marshal away while Tally, Abigail and Adil meet an old ally. President Wade's political stance puts her in danger.  
July 12 (10:00-11:00 p.m. EDT) – Episode #3004 – "Happy Yule!"
The Unit spends the Yule holiday plotting their next steps. Alder seeks out another steward of the First Song. Hearst, President Silver and Kara Brandt celebrate a victory.
July 19 (10:00-11:00 p.m. EDT) – Episode #3005 – "Cession in Session"
The Council of the Great River convenes to hear the Unit's testimony and decide whether to extradite them back to the U.S. Abigail attempts to convey the dangers of the Camarilla's influence, and Tally ponders if the future is written in stone.
July 26 (10:00-11:00 p.m. EDT) – Episode #3006 – "Book Club"
Tally reunites with her mother and finds a reason to keep fighting. Abigail and Adil return to Fort Salem to find their home has changed. Scylla and Edwin work together in attempt to reach Raelle. Anacostia and Sterling plot an escape.
"Good Trouble" Season 4B – SUMMER PREMIERE
Photos Available Here
Screeners Available Here
July 7 (10:00-11:00 p.m. EDT) – Episode #4010 – "What I Wouldn't Give for Love" – SUMMER PREMIERE
Davia musters the courage to tell Dennis how she feels. Malika deals with Angelica seeing other people. Alice hires a new manager. The FCG throw a party to celebrate the launch of their app. Luca considers accepting Davia's offer of a home. 
July 14 (10:00-11:00 p.m. EDT) – Episode #4011 – "Baby, Just Say 'Yes"
Alice and Sumi get caught up with TikTok challenges. Davia struggles with home schooling Elliot. Mariana helps Joaquin search for Jenna. Luca moves into the Coterie – but does he really feel at home? Isabella crosses a boundary with Gael.
July 21 (10:00-11:00 p.m. EDT) – Episode #4012 – "Pick a Side, Pick a Fight"
The FCG's vote on who will lead their team. Davia settles into an academic rhythm with Elliot. Malika tries to get her boss on board with her Women's Center and argues with Angelica. Dennis struggles with exposing Ryan to The Coterie. 
July 28 (10:00-11:00 p.m. EDT) – Episode #4013 – "A Penny With a Hole In It"
The FCG try to hire Zelda as a brand influencer. Malika and Tracey work together on the Women's Shelter. Joaquin discovers that Jenna may be in a cult. Alice feels like she is behind in her career. Gael struggles with forgiving Isabella.  
"Everything's Trash" Season 1 – TWO-EPISODE PREMIERE
Photos Available Here
July 13 (10:00-10:30 p.m. EDT) – Episode #1001 – "Choosing Between Peen & Politics is Trash" – SERIES PREMIERE
Phoebe is a 30-something outspoken podcast star making her mark while living a broke and delightfully messy life in Brooklyn. When her "perfect" older brother launches a political campaign, she's forced to start her adulting journey.
July 13 (10:30-11:00 p.m. EDT) – Episode #1002 – "Black Excellence is Trash" – SERIES PREMIERE
Phoebe and Malika are psyched when the podcast is selected to be featured in a magazine. But when the pressure of trying to land the cover starts to get to them, it pushes them to achieve the look of Black excellence by any means necessary.
July 20 (10:30-11:00 p.m. EDT) – Episode #1003 – "Canvassing is Trash"
Phoebe and the gang canvass for signatures to get Jayden on the State Representative ballot. While on the campaign trail, Phoebe relies on the kindness of strangers while Jayden and Jessie get a wake-up call to their priorities in life.
July 27 (10:30-11:00 p.m. EDT) – Episode #1004 – "Public Image is Trash"
Jessie's mentor asks Phoebe to be a guest speaker at his university, but Phoebe sees an unusual side to the mentor that makes her second-guess the entire speaking engagement.
"grown-ish" Season 5 – SEASON PREMIERE
Photos Available Here
July 20 (10:00-10:30 p.m. EDT) – Episode #5001 – "This Is What You Came For" – SEASON PREMIERE
Zoey returns to Cal U to support Junior's first day on campus but soon realizes that she may be missing her Cal U days more than she let on. After meeting his new classmates, Junior seeks to escape dorm life by attending Doug's White Party.
July 27 (10:00-10:30 p.m. EDT) – Episode #5002 – "High Society"
Friction mounts between Junior and Annika when one of them is tapped for a secret society. Red flags start to arise when Aaron discovers the university is overusing his image to promote how "diverse and inclusive" they are.
*COPYRIGHT ©2022 Disney Enterprises, Inc. All photography is copyrighted material and is for editorial use only. Images are not to be archived, altered, duplicated, resold, retransmitted or used for any other purposes without written permission of Freeform. Images are distributed to the press in order to publicize current programming. Any other usage must be licensed. Photos posted for Web use must be at the low resolution of 72dpi, no larger than 2×3 in size.
Freeform Media Relations
Philip Galicia
philip.galicia@disney.com
Amanda Kell
(818) 569-3391
amanda.kell@disney.com
Press materials are available at www.dgepress.com.
Freeform app: http://freeform.go.com/apps
Follow Freeform (#Freeform) on Instagram, Twitter and Facebook.