Freeform Announces Its TV Offerings for August 2021 Including the Season Finale of 'Motherland: Fort Salem,' and New Episodes of 'Good Trouble' and 'Grown-ish'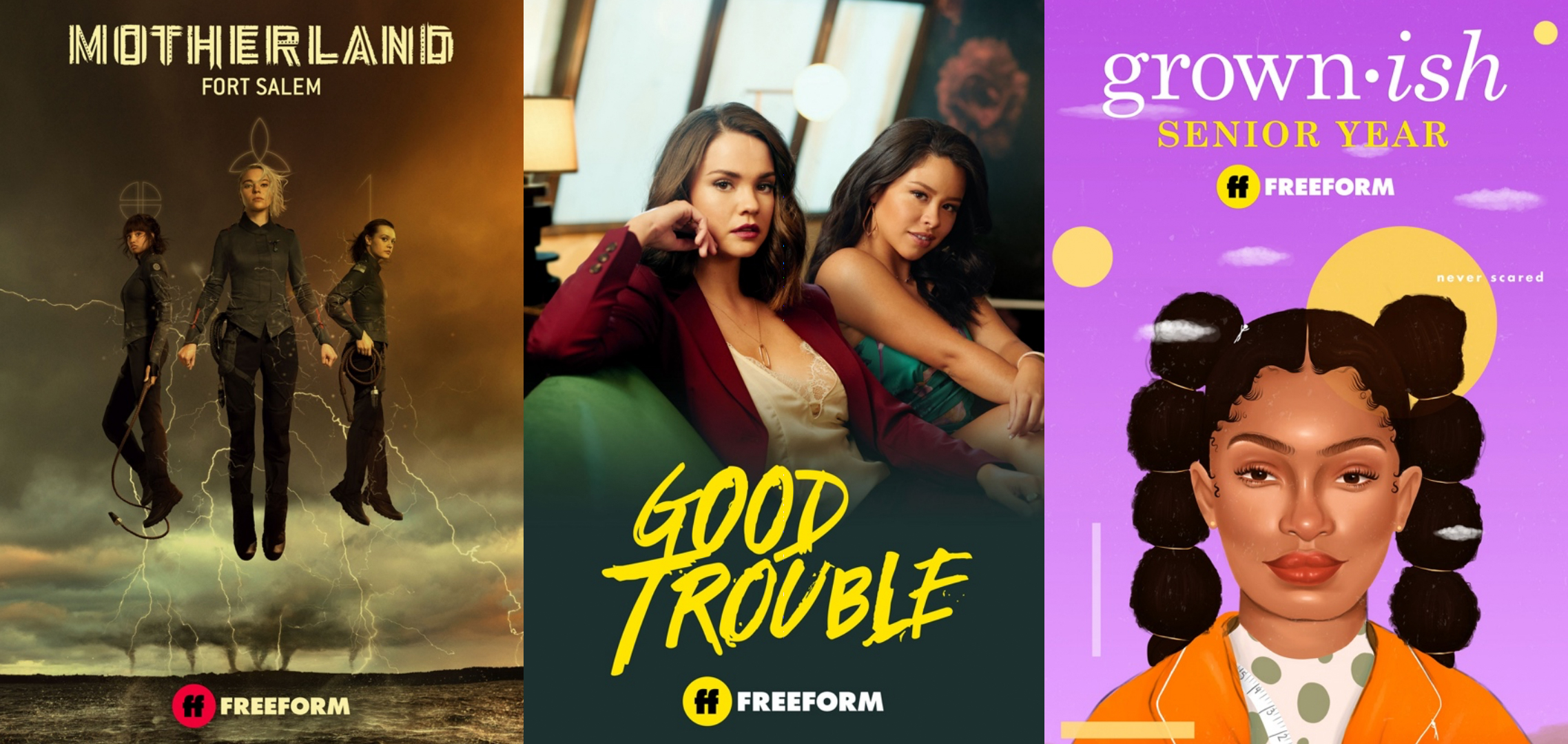 "Motherland: Fort Salem"
Photos Available Here
Screeners Available Here
Aug. 3 (10:00-11:00 p.m. EDT) – Episode #2007 – "Irrevocable"
Raelle fights for her life, just as the Army and Spree converge on a secret Camarilla stronghold. Abigail and Adil's mission for vengeance escalates. 
Aug. 10 (10:00-11:00 p.m. EDT) – Episode #2008 – "Delusional"
Tally leads the unit on a mind-bending mission to find Nicte Batan – but is the unit strong enough to withstand Nicte's defenses?
Aug. 17 (10:00-11:00 p.m. EDT) – Episode #2009 – "Mother of All, Mother of None"
Distrust in Alder grows as Tally and Abigail pressure those in power for changes. Raelle gains a deeper understanding of the Mycelium and its purpose for her.
Aug. 24 (10:00-11:00 p.m. EDT) – Episode #2010 – "Revolution, Part 1" – SEASON FINALE
In the season finale, the Camarilla brings the fight to Fort Salem. Raelle, Abigail, Tally and their allies are forced to make impossible, world-changing choices.
"Good Trouble" Season 3
Photos Available Here
Screeners Available Here
Aug. 4 (10:00-11:00 p.m. EDT) – Episode #3014 – "Picks and Strikes"
Callie and Mariana team up to find the right candidates for Tommy's trial. Dennis ventures into a new business; Gael and Isabella realize co-parenting is not as easy as they thought it would be; Alice decides to take the reins.
Aug. 11 (10:00-11:00 p.m. EDT) – Episode #3015 – "Lunar New Year"
Alice hosts a Lunar New Year celebration at the Coterie; Callie and Gael address their communication issues; Malika and Tanya forge a new relationship; Davia struggles with her feelings for Matt and Dennis.
Aug. 18 (10:00-11:00 p.m. EDT) – Episode #3016 – "Opening Statements"
As Tommy's trial begins, Callie sees Jamie in a new light. After running into some old colleagues, Mariana wonders if she can ever make amends. Malika must learn to establish boundaries; meanwhile, Alice and Ruby's relationship is revealed.
Aug. 25 (10:00-11:00 p.m. EDT) – Episode #3017 – "Anticipation"
Callie receives an anonymous tip during the trial. Mariana lands a big client at work. Malika explores new feelings toward a co-worker. Davia's physique has her slipping back into old habits, and Gael introduces Isabella to his family.
"grown-ish" Season 4
Photos Available Here
Screeners Available Here
Aug. 5 (8:00-8:30 p.m. EDT) – Episode #4005 – "A BOY IS A GUN*"
After an unarmed Black man is shot by police, the crew reacts in different ways to the news. Kiela and Doug butt heads when she wants to use his party to raise awareness.
Aug. 12 (8:00-8:30 p.m. EDT) – Episode #4006 – "Put Your Hands Where My Eyes Could See"
The crew hits the streets of Los Angeles to fight for racial justice and equality. Nomi confronts her White Fragility, while Ana and Javi reach a boiling point in their relationship.
Aug. 19 (8:00-8:30 p.m. EDT) – Episode #4007 – "A Peace Of Light"
When Zoey's ideas are used without credit by her boss, she debates whether to speak up and risk her internship — or sit silently. Jazz seeks medical leave from the track team by going to therapy. Aaron tries to make a good impression.
Aug. 26 (8:00-8:30 p.m. EDT) – Episode #4008 – "Canceled"
After Luca calls out Zoey's boss on social media, Zoey tries to regain control over cancel culture – but things backfire. Jazz and Des grow closer as Jazz teaches herself to lean on Sky less.
*COPYRIGHT ©2021 Disney Enterprises, Inc. All photography is copyrighted material and is for editorial use only. Images are not to be archived, altered, duplicated, resold, retransmitted or used for any other purposes without written permission of Freeform. Images are distributed to the press in order to publicize current programming. Any other usage must be licensed. Photos posted for Web use must be at the low resolution of 72dpi, no larger than 2×3 in size.
Freeform Media Relations
Philip Galicia
philip.galicia@disney.com
Amanda Kell
(818) 569-3391
amanda.kell@disney.com
Press materials are available at www.dgepress.com.
Freeform app: http://freeform.go.com/apps
Follow Freeform (#Freeform) on Instagram, Twitter and Facebook.